As part of Photonics for a Better World, OptoRobotix displayed the new Cell-BOCS prototype cell sorter at SPIE Optics + Photonics 23 – 25-August 2011 in San Diego, California.
Photonics for a Better World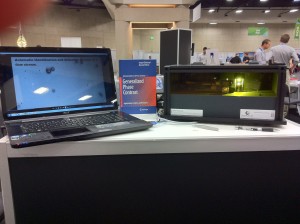 Optical and photonics technologies and the people who work with them have brought tangible social, environmental, health, and economic gains to humanity. These technologies include ones that bring inexpensive and efficient alternative energy to rural and developing areas without access to electricity and others that help people to see and hear.
Laser technologies make the world better also, by killing malaria-carrying mosquitoes, allowing surgeons to operate on tissue one cell at a time, and by telling farmers the best time to irrigate their fields.
Other optical and photonics technologies have lead to the growth of the entertainment industry and instant communications at home and in space. Food inspections and personal and community security also rely on photonics technologies.
OptoRobotix is proud to be invited to display our technology within cell sorting at SPIE Optics + Photonics.